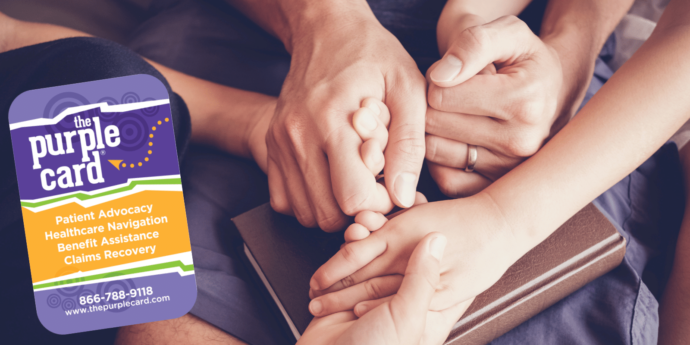 When our members have needs beyond their benefits programs, our heart of advocacy extends to prayer. If you or your family are in need of prayer or want to share praise, please submit a Purple Prayer Request. Purple Prayer Requests are anonymous and will appear here once they are submitted and approved.
P
Please pray for strength for P to get through this difficult time and for wisdom and discernment as he navigates through arranging for his siblings funeral and handling of his affairs. Please also pray for P to open his heart and be willing to accept the help that he needs.
DC
We pray for comfort and healing for Glenda. We pray for knowledge, support and guidance for her doctors and nurses. We also pray for strength and peace for her loved ones.
DB
Please pray for healing and recovery (due to COVID) for Randy, his wife and for all of his peers. We also pray for guidance for their doctors and peace for their friends and families.
Donna
Thank you all for the thoughts and prayers for my friend Lynetta and her family. Unfortunately this will be my last request.
Her mother got really sick after being diagnosed with COVID. They put her on a ventilator last week. Her body has stopped fighting and today, after the family has said their goodbyes, they will take her off the ventilator.
My heart is breaking for this family. Please pray for them as they go through this tough time.
Donna
Prayer Warriors Please say prays for my Friend Lynetta and her family. They've had to make some tuff decisions this week. The matriarchal of this family has been hit hard with COVID and is in ICU hardly able to breath. I'm begging everyone to please pray for them. Pray that the Lords hands strengthen her body and heal her lungs. Pray that He blesses her children with more time to laugh and love her.
in Jesus name Amen
Lynetta
Thank you for providing a place to ask for prayer and share in prayer the requests of others.
My family has recently been infected with COVID-19. While we appear to be on the backside of this trial, we are in need of prayer for my mother. Her name is Vicki, she is in ICU at the hospital. She has good days and bad days. She is a strong believer in God's healing power. Please pray with us that He will provide for her health situation in a miraculous way. We will be faithful to give him all the credit. Thanks in advance.
Donna
Please pray for my good friend Lynetta and her family. Her brother, sister in law, and mother are all sick with COVID. Her mother has been in and out of ICU.
I pray for strength, health, and hope.
Lord hear our prayer
Robyn
What a surprising shock to get to your website and see Purple Prayer Request!!!!! I have a couple of urgent requests' for my son, Jake. I"ll try to keep it as short as possible. Jake just turned 32 and is currently separated from his wife. 2 years ago he found out she was having an affair but he chose to stay with her and work on their marriage. Problem is, her and the guy (i'll call them B and C) kept getting caught and last september, they both separated from their spouses to begin the process of divorcing and getting together. For whatever reason they didn't and my son has wanted to try to make it work. Even now she is STILL meeting up with this guy when she can. Please pray for that. And they have two kids. My son is also drinking a lot. He drinks more than he did before his separation and now it's bad. He drinks until he's so drunk that he can't even get out of the Uber car that he's been in. He was raised in church but hasn't had ever told me he has a relationship with God. EVER. Please, please pray for him like it's YOUR SON I'm talking about. I'm a brokenhearted mother and I've been praying for his salvation for years. Thank you
Nicole
Our youngest son (my stepson) who just turned 18 last month has been showing symptoms of being bipolar, though we have not been able to get him to a therapist to have him appropriately diagnosed. He had been in an up phase for the past couple of weeks and had accepted that was likely what was going on with him and we were hopeful that we would be able to get him to select a therapist and begin the process of getting medication to stabilize his moods and psyche. He hit a down phase this weekend and had been talking to his mom about wanting to experience death and ran away while she was napping, leaving a note that shook all of us to our core. We are considering him at this point to be a danger to himself and are involving the police in hopes that we can get him safe and get him help before something unspeakable and permanent occurs. Please keep him (Nila) and our family in your prayers while we navigate this trying time.
D
An employee has 2 family members that have recently been diagnosed as having COVID-19 (they have not had physical contact with them). They are considered high risk due to certain factors. Please pray for healing.